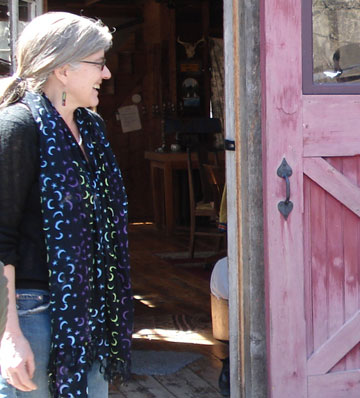 The Rev. Kathleen C.
Mandeville M. Div



I will initiate marry, counsel & bury... and am along for the glorious messy human ride of it all.

It is my honor and passion to connect with people at the pivotal moments in their lives and create ritual with them that gathers and reflects the power these moments hold.

I began my ministry 25 years ago when I was ordained an Episcopal priest. My spiritual practices and life have journeyed deeply into earth-based and goddess traditions. I have been involved with the creation of intentional spiritual community in numerous settings.
| | |
| --- | --- |
| Having served as a parish priest of a church/theatre, St. Clement's in Hell's Kitchen, NYC and as a Chaplain at Bard College, Annandale, NY— I have long been engaged with the creation of community through the integration of ritual, performance, landscape and hospitality. | |

I will initiate, marry, counsel, and bury... and am along for the glorious messy human ride of it all. As mistress of fire, I build ceremonial, pyrokinetic and hearth fires, locating community life around the divine inspiration of the flame, the egoless performer.
Kathleen is:

• the founder and executive producer of IgniVox Productions, a production company dedicated to spiritual, regional and environmental witness through the arts.




• the proprietor of Kathleen's Barn, a four season guest house, retreat facility....

• and the site of Somatic Studios, a collective of healers, spiritual leaders and performers who are committed to offering services and programs dedicated to the "balance in the dance" of mind, body and spirit.

• the founder of Sacred Fire Ceremonies, a ministry providing weddings, pastoral care and ceremonies for all occasions.

• the writer of True Commerce, a blog about the interelationship between commerce and spirituality.